Hope everyone had a good time at Minicon this year, I look forward to seeing you all next year!
Here is a post to see if this branch of social media is being used. Please respond in the comments to let me know you're alive! I am inclined to remove this link from the Minicon web page. If you disagree, please let me know why.
Mon, Apr 17. Desiccated Dodo. Irene & Scott Raun's. 3928 11th Ave S, Mpls. Dogs, smoking outside. FFI: 612-822-0451
Attendees driving on Excelsior Blvd from the east should be aware that there is a U-Turn stoplight just past the house. Street parking is available if driveway is full. Park on Colorado Ave or Dakota Avenue. The business across the street is probably okay, but at your own risk.
A sattelite image of the area is at
http://tinyurl.com/huz8gak
, the U-Turn light is indicated by a red star.
FFI: optymystyc1@gmail.com
February 18, 4:00PM. - MnStf meeting hosted by Joel and Christine, 6323 Excelsior Blvd, St Louis Park. Second nominations meeting for MnStf Board. House contains no pets, do not bring any other than service animals. Please remove your shoes.


Feel free to bring a beverage or food to share, your swimsuit, and table top games.

For questions or more information, or to offer help with this event, contact Mark Richards at mark dot t004 at merichards dot name ; Many thanks to Mark Richards for generously offering to host this event!

Please help keep the room clean so there's not tons to do for the few people who are still around late at night.
Saturday February 11th - The annual MnStf Pool Party at the Bloomington Doubletree, 7800 Normandale Boulevard, room 215. There will be a Minicon Concom meeting at 3:00PM. First nominations for the MnStf board will be held at this meeting at 6:00PM.


Address: 3601 Towndale Dr; Bloomington, MN 55431-1045
Parking: Parking only along any berm in the townhome complex
(especially not in or in front of any driveways).
Animals: None here; don't bring any.
Children: Somewhat child-friendly.
MnStf Social Gathering - Saturday, January 21 to be hosted by Clay and Hershey Harris at 4:00PM!


This event is Potluck, please bring a snack or beverage to share, along with any games you'd like to play or lend for the evening. MnStf will provide sparkling beverages for midnight, and lyric sheets for Auld Lang Syne.
MnStf's New Year's Eve Celebration will be at the Waterbury space at 1121 Jackson St NE in rooms 106 and 106A. We have the space any time after 3PM. There is a conversation area with comfortable couches, another big room with many tables for gaming, and a full kitchen with countertops upon which to set food.


There will be a Minicon work party starting at 1PM, the social event begins once the work is finished. Dogs, smoking outside, and dinner-type food sometime after 5pm - pulled pork sandwiches, vegan curry w/ wild rice, and chocolate fondue.
This Saturday, December 17th will be a MnStf social gathering at the home of Scott and Irene Raun at 3928 11th Ave S in Minneapolis.


Event begins at 4. We have several spaces that will be good for conversation or gaming, if you don't see what you're looking for right away, poke around until you find it. Gaming tables will probably be in the basement or on the second floor. There will be vegan chili, lamb stew, cake and cucumber water. I can't promise that anything will be left when you get here. Weather will be nice, there will be a small bonfire in the back, as it will be Guy Fawkes Day.

The closest regular bus is the #17, which stops at the Uptown Transit Station and runs all night. Home contains two cats, please do not bring your own animals. Feel free to bring a food or beverage to share, do not bring guns. Smoking is fine outdoors, ashtrays will be provided upon request. For questions, directions or other information, write to mle292 at gmail dot com or call 612-747-5990
Unsurprisingly, a mere week after the end of October is the first Saturday in November. This upcoming Sat November 5 will be the next MnStf social event - Aaron and Emily Hosting - 2829 Alabama Ave S, Saint Louis Park, 55416.
Sat, Oct 29, #. Minn-StF Halloween! This event will be hosted by Sharon Kahn & Richard Tatge, at their home affectionately known as The Dreampark. 4002 Pillsbury Ave S, Mpls. It's the one with all the Halloween decorations out front that could possibly be seen from space. Starts at 4PM. No pets, smoking allowed on back patio. There may be a fire pit. Costumes encouraged but not required.
Here's a photo of the front door, from a previous year.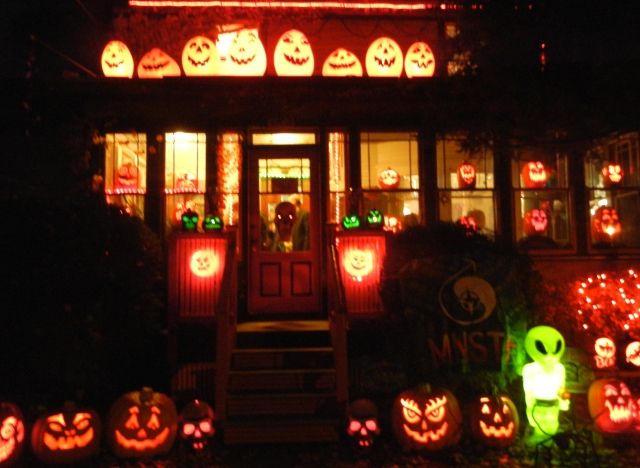 MnStf Halloween Party this weekend!